Essay About Holiday With My Family In Malaysia Where Do They Sell
All creatures great and small: Something for everyone on a family holiday in Langkawi

By Imogen Edwards-jones.
Published: 18:33 GMT, 12 May 2013 | Updated: 18:33 GMT, 12 May 2013
It is amazing how the mind plays tricks on you.
How the memory can bury some things and highlight others.
Last year my husband and I attempted a long-haul two-week trip to the sunshine with two children under six, and I seem to remember we enjoyed it. In fact, we often talk about it in hushed, almost hallowed tones, as The Holiday.
Heaven half the world away: Imogen and family made the trip to the Four Seasons resort in Langkawi
'Wasn't The Holiday fabulous?' one of us would occasionally volunteer, shivering with flu on the sofa while catching a Midsomer Murder. 'Aah, yes. The Holiday, amaaazing,' the other one would sniff.
Long-forgotten was the four-hour delay at Heathrow, the screaming jack-knifing two-year-old as we stopped over in Milan at 3am, and the stamping, spitting, huffing six-year-old as we touched down, bloated, shattered and miserable in the Seychelles.
In our mind's eye it had been all sun, sand and kids' clubs.
The hell of that journey came flooding back, however, as I sat with a thumping three-year-old, stuck in traffic, about to board another 16-hour flight.
But what do you do when you are desperately seeking sunshine in the very depths of an English winter? The choice is a ten-hour hellathon or more in any direction - so you choose your destination carefully and hope it's worth it...
We plumped for Langkawi, an archipelago made up of 99 islands off Malaysia, and what an amazing choice it was.
Just off the northern tip of the Malaya peninsula, with Sumatra to the west and Thailand close by, Langkawi is a gentle tropical island paradise surrounded by an emerald sea. A mixture of picturesque paddy fields, sheer craggy limestone mountains, impenetrable jungle and pristine mangrove swaps, it boasts the Kilim Karst Geoforest Park, the first Unesco Geopark in Asia.
A ride on the wild side: Imogen points out some of the plentiful local wildlife to son Rafe
Before leaving home, I had been told that Langkawi is what Phuket and Bali were like 40 years ago, and driving the length of the island from the airport, through sleepy villages with their traditional low-level homes, wooden verandas, fat pigs and yawning dogs, it was easy to see why.
There wasn't a brash, flash, tourist trap in sight.
Untouched rainforest grows alongside rows of neatly planted rubber trees that give way to loafing water buffalo whose milk is apparently used to make the local mozzarella. Save for the occasional buzzing motorbike or groups of grooming macaque monkeys using the highway like the local salon, the roads were almost deserted.
It took us less than half an hour to drive the 25 miles to the north-west coast of the island and The Four Seasons resort.
And what a piece of perfection it was.Set in 48 acres of stunning gardens, the 23 private villas and 68 pavilions line a wide, white beach. Each villa has its own plunge pool and the sort of view of the Andaman Sea - complete with the kind of mini rainforest-clad rocky islands - that the opening sequences of James Bond movies are made of.
My children, Allegra and Rafe, squealed with delight as they cased the enormous villa and, despite 16 hours on a plane, watching Ice Age 3 five times back to back, they stripped off and threw themselves naked into the water.
My husband and I were just as delighted with the indoor shower, the outdoor shower, the family bath. the jacuzzi, the office area, the double basins, and most importantly of all, the two separate bedrooms.
Not that our marriage has quite reached that stage, but as anyone who has ever travelled with small children will know, there is nothing that ruins a holiday more than two camp beds shoved in the master bedroom. So it was easy to understand the small air-punch my husband gave as he was shown the second double bedroom. 'Yes!' he whispered, giving a slight skip.
Bliss on a boat: Langkawi offers a pristine, undisturbed take on the Far East
But then a lot of that goes on here, because they seem to have thought of absolutely everything before you've even engaged your addled, overtired, jet-lagged brain.
We were amazed by a fabulous family pool with fountains, whirl and plunge pools; the fantastic Malayan restaurant that serves a killer crab curry; an amazing spa with therapists who know how to reach levels of relaxation others can only dream of; and the kids' club with staff your children actually want to stay with.
And then there were the bicycles, the barbecue on the beach, and even beautiful, bound copies of Somerset Maugham short stories in every villa so you can relive being British in Malaya.
It's all there. There's even the first-ever adults-only pool in Asia - a 180ft infinity pool with a view of Thailand's coastal silhouette. With its private cabanas, decadent loungers and fish-shaped fountain, it makes you rather wish you'd saved the £10,000 you'd spent on IVF and booked yourselves a couples holiday here instead.
And that's all before you've even left the hotel.
We made numerous sorties, firstly to the local night market where we roamed through the smoking food stalls and neon striplights buying mouthwatering chicken satay and various cheap, noisy plastic toys. My seven-year-old daughter bought herself a purple-and-black hijab and wore it for the rest of the holiday, much to the amusement of every Muslim Malaysian we encountered.
We tried, twice, to visit the famous Langkawi cable car with its 20-minute vertiginous trip 2,300ft to the top of Gunung Machinchang mountain, where the spectacular view is supposed to take in the whole island and right out to Thailand beyond. Sadly, on both occasions we were thwarted by the weather, which at the end of the rainy season can turn in five minutes from glorious blue skies to dramatic thunderstorms, rendering the cable car a potential swinging death trap with zero visibility.
That's not a toy: Rafe has a close encounter with a (thankfully docile) Burmese python
We ended up going to the Bird Paradise Wildlife Park instead, where there were glamorous white peacocks, pushy porcupines and sweet, shy mouse deer. But then Langkawi is all about the animals. If you want a little more than sun, sea, sand and a chilled hand towel at lunch, this is the place. For just around the corner is one of the most diverse, pristine, locations on Earth.
Straight off the beach - after a banana bread and strawberry pancake breakfast - the hotel organises one of the most fascinating and relaxing safaris in existence.
Gathered by Aidi Abdullah - the resident naturalist who could give David Attenborough a run for his money when it comes to enthusiasm, charm and knowledge - we boarded a motor canoe with canopy and headed off around the headland and into the mangrove swamps.
The wide lagoons and big skies were filled with swooping Brahminy kites and the sea eagles from which Langkawi gets its name (Helang means eagle, and kawi refers to their colour - reddish brown).
As we ventured further into the swamps, the waterways narrowed and soon the mud flats teemed with brightly coloured fiddler crabs, sporting their neon front claws, jostling for a mate.
Further in, there were odd prehistoric fish that skated across the mud as if walking. Next we came across ancient caves filled with sleeping fruit bats, hanging from the ceiling. And all the time the mangroves grew thicker and more dense. The terrible tsunami of 2004 apparently passed through these waters, leaving the coastline almost untouched.
These trees are also home to monitor lizards, Giant Hornbills and colonies of monkeys - naughty monkeys - sharp-eyed macaques who could quickly spot a sucker. One minute my three-year-old son was chomping on an electric green apple in his dimpled hand, and the next a smart little monkey was giving it a quick wash in the lagoon before wolfing it down in front of his terribly impressed mates.
My daughter was crying with laughter. There is nothing like a monkey getting one over your junior sibling to really make your day.

That's what was amazing about our two weeks in The Four Seasons Langkawi: there was something for everyone. My husband loved the massages, the bike rides on the beach and the huge Eagle statue that stands off Kuah Jetty in Eagle Square..

My daughter loved the henna in the kids' club, the monitor lizards in the mangroves and the oversized margarita pizza they served for lunch. My son learnt to swim. He caught hermit crabs, kissed a Burmese python (famously docile) and loved the Haagen-Dazs chocolate ice cream at the pool.
You little monkey: The light-fingered macaque moments after stealing an apple from a bemused Rafe
I loved the sea view from my bed, swimming ten lengths of the adult pool in total silence, the chicken satay and the fact that I managed to read Somerset Maugham AND have a nap in the afternoon.
As we got home to slate-grey skies, below-freezing temperatures, MasterChef reruns and Ripper Street on TV, we didn't really mind: we'd had a proper dose of sunshine and the rest of the winter seemed more bearable.
I wrapped myself up on the sofa and smiled. 'Now that was a good holiday.' 'Yes,' agreed my husband. 'Not a good holiday. The Holiday,' he sniffed, and reached for the Lemsip.
Travel Facts

Elegant Resorts (01244 897515, www.elegantresorts.co.uk) offers seven nights at the Four Seasons Langkawi from £2,265 per adult and £965 per child, including B&B, return flights from Heathrow with Singapore Airlines and private transfers.

The comments below have not been moderated.
The views expressed in the contents above are those of our users and do not necessarily reflect the views of MailOnline.
We are no longer accepting comments on this article.
Share or comment on this article
EXCLUSIVE - OJ Simpson 'confesses to murdering Nicole...
Could Camilla become QUEEN? Prince Charles fuels rumours...
Married RE teacher, 46, faces being struck off for...
EXCLUSIVE: 'God protect me!': Katie Piper shares cryptic...
Is where you live an Alabama Rot hotspot? Interactive map...
Devastated couple have their £15,000 wedding cancelled...
Australia, Poland and Japan could join England in...
New York Giants star Odell Beckham Jr is caught on video...
Stormy Daniels takes a spin around the pole in Florida...
Moment 'drunk' Ryanair passenger, 45, who forced a...
Ex-serviceman had been thrown off veterans' home PTSD...
Girlfriend slashes open her lover's throat with a Stanley...
'Tempers occasionally get frayed': Stranger Things...
Traces of nerve agent are found in Zizzi restaurant where...
When millionaire neighbours go to war: How residents led...
Off-duty, smoking white cop tackles and handcuffs a black...
Father-of-two, 33, is hit by hundreds of pounds of fines...
Primary school headmaster who suggested his pupils walk...
Cameron Highlands in Pahang is the biggest and arguably the best highland resort in Malaysia.  Popular amongst both locals and tourists, it provides a cool respite from the sweltering heat of the lowlands.    The sprawling lush valleys about the size Singapore has much to offer nature lovers.  My family stayed 2 nights in Cameron Highlands and did a full day local tour of the beautiful countryside.  We visited tea plantations, strawberry farms, Rose Valley, Lavender Garden, Bee and Butterfly farms, the Brinchang night market and more.  Here are 10 places to visit or things to do in Cameron Highlands.
1.  Tea Plantations
Visiting a tea plantation is the top thing to do in Cameron Highlands.  We visited the Sungai Palas Boh Tea Plantation which offered an educational tour of the tea factory.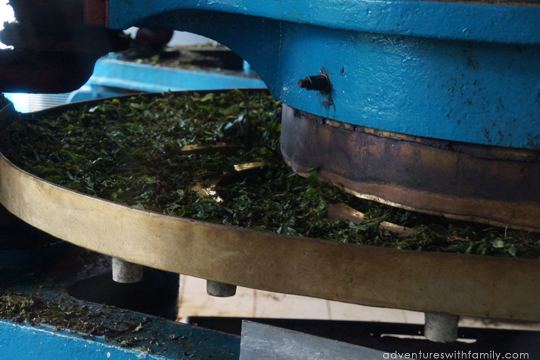 No visit to a tea plantation is complete without sipping a cup of tea while enjoying the view of the plantation.  We had a lovely English-style breakfast with aromatic tea, scones and pastries at the Boh Tea Centre at Sungai Palas.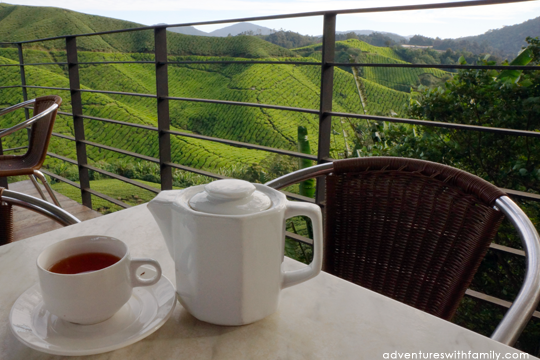 Here is a better view of the stunning vistas of rolling hills where the tea plantations are tendered.  Did you know that Cameron Highlands got its name from a British surveyor called William Cameron back in the 1800s?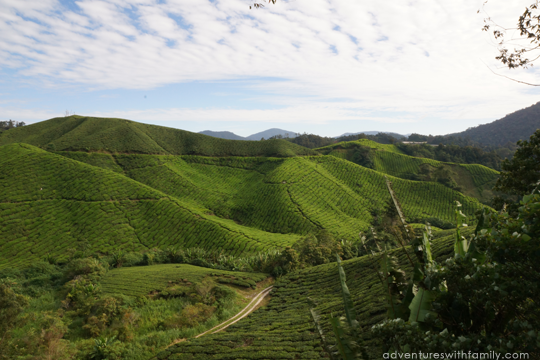 It is also worth exploring the scenery just outside the Boh Tea Centre.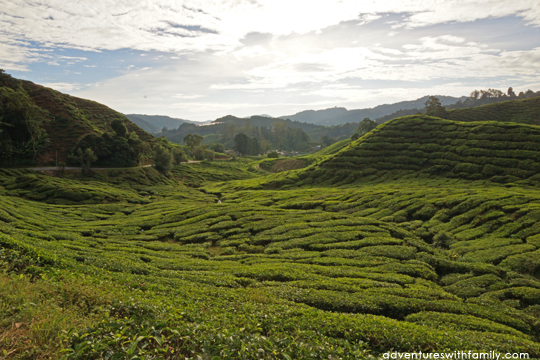 There was another Boh Tea plantation in Cameron Highlands which was further away from other attractions and where you have to traverse a windy road to get there. Definitely not suitable for my kids who would throw up or get a headache.  Apart from Boh Tea,  there were two other tea plantations  in Cameron Highlands – Cameron Valley and Bharat tea plantations. Both had tea cafés overlooking the plantation and stores to buy tea as souvenirs.  I especially liked the strawberry tea from the Cameron Valley tea plantation, pictured below.  Cameron Valley tea plantation was the easiest to get to, although the carpark was rather small.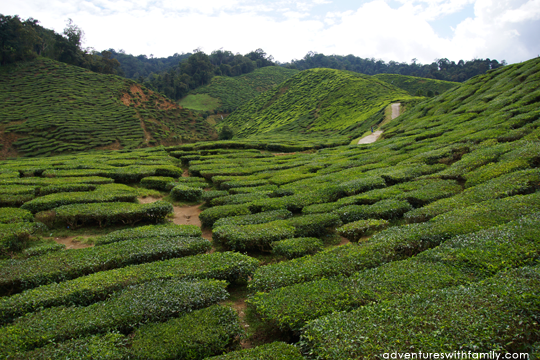 2. Strawberry Farms
The other top attraction in Cameron Highlands is the strawberry farms. With the need for a cool climate, strawberry farms can only be found in the Malaysian highlands. The rarity of such farms makes them rather attractive to locals as well as tourists from neighbouring countries.  Read more.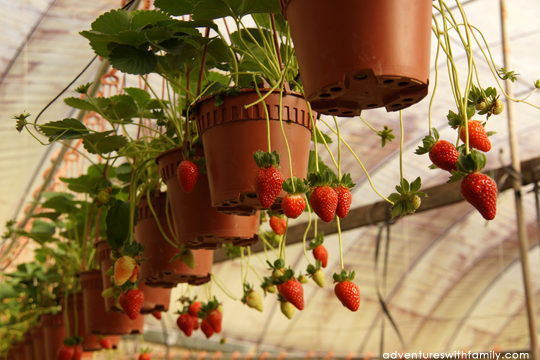 3. Rose Valley
Located at Kea Farm, a short distance from the Sungei Palas Tea Plantation, the Rose Valley is filled with more than 100 variety of roses and other types of flowers. The Rose Valley is perched on slopes along a small hill. Flower lovers would enjoy the Rose Valley.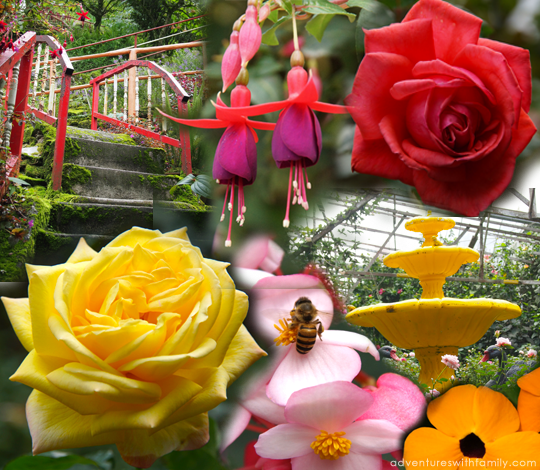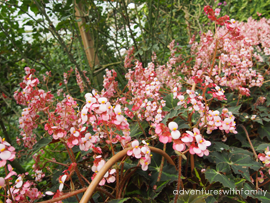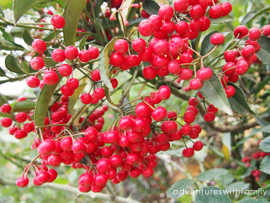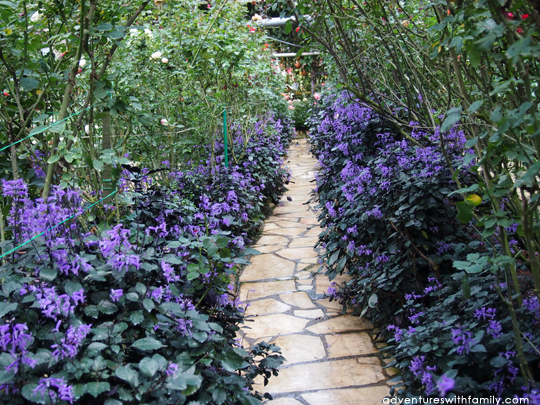 4.  Cameron Lavender Garden
More flowers bloomed at the Cameron Lavender Garden.  As we entered the garden, we saw a sea of purple, red and yellow flowers sheltered under a large canopy.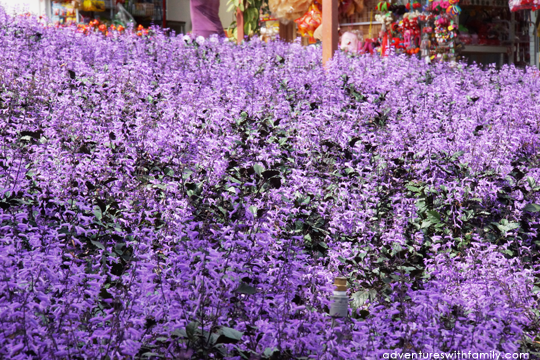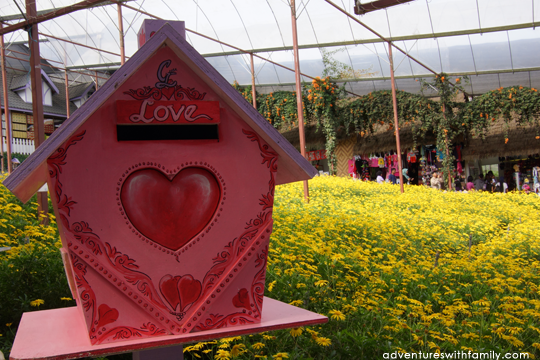 On the higher slopes,  there were rows and rows of gerberas in all sorts of colours.  Visitors could also pick strawberries there.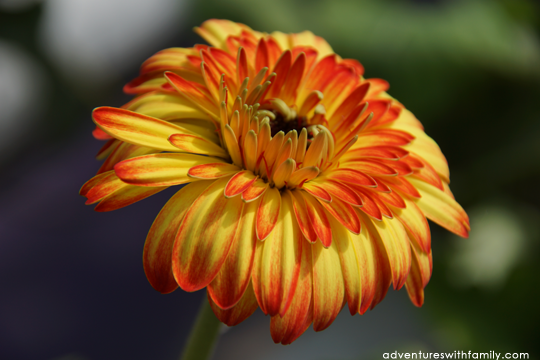 5. Vegetable Farms
Our local day tour also brought us to visit the Watercress Valley, and a local vegetable farm that grew tomatoes and cauliflowers.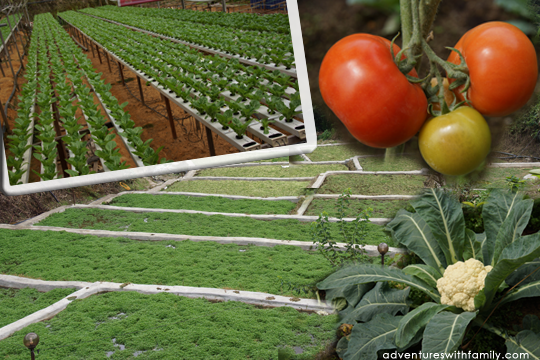 6. Bee and Butterfly Farms
Apart from flowers and vegetables, Cameron Highlands also has Bee Farms and the Butterfly Farms.  See more pictures of the beautiful butterflies and bees here –  Cameron Highlands Bee and Butterfly Farm.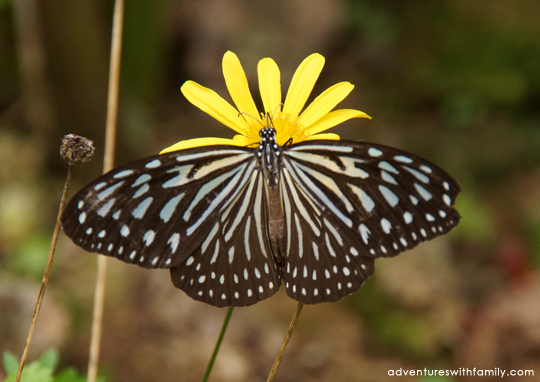 7. Cameron Highlands Time Tunnel
The Cameron Highlands Time Tunnel is a local museum with lots of vintage items and memorabilia.   At first, I didn't think we would enjoy the Time Tunnel much, but to my surprise it was actually quite educational for the kids.  My trio kept asking "What's this?", "How does it work?" or "Why?"  There were also things that I haven't seen for ages and have totally forgotten about them, like the old light switches.  The Time Tunnel even had a photo of Singapore's father and son PM,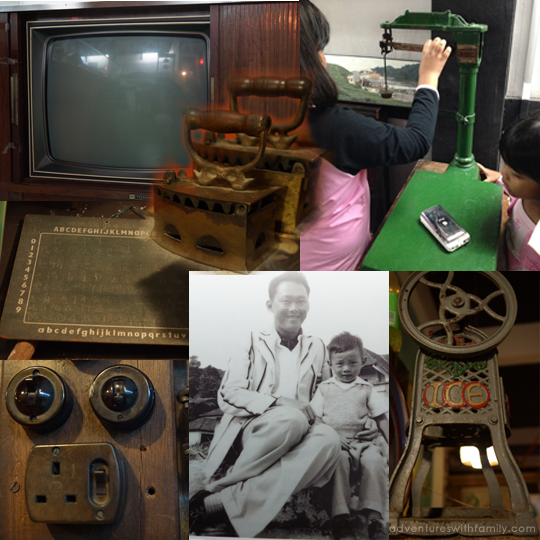 8. Sunrise on Gunung Brinchang & Mossy Forest
Something really worth doing while in Cameron Highlands is waking up at around 4.30am, drive up to the top of Gunung Brinchang, climb up a watch tower with the cool crisp wind blowing at your face, and wait patiently while the sun reveals itself and the spectacular scenery.  Read more.
9.  Brinchang Night Market (Pasar Malam)
We went to the Brinchang night market (locally known as "Pasar malam") near Star Regency Hotel.  It normally opens on Fridays and Saturdays but during Malaysian school holidays, it opens every night.  Local produce like  strawberries, vegetables, and fruits were sold in abundance at the night market.  There were also many stores selling vegetable fritters, crab fritters and prawn fritters. One thing to try was the corn with the white kernels.  The white corns could be eaten raw and surprisingly, it was sweet!  Apart from food, there were lots of value-for-money stuff and souvenirs on sale.  If you are driving, you need to go there early to find parking.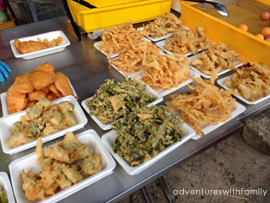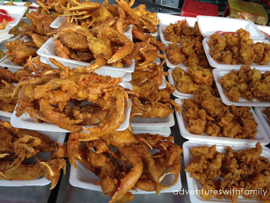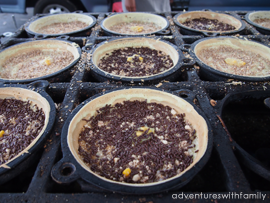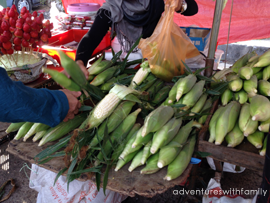 10.   Enjoy the local delights
Apart from the food at the Brinchang night market, steamboat restaurants seem to be quite a hit in Cameron Highlands.  We only ate at the steamboat restaurant once, though.  Most of the time, we ate the local food fare there.  Our favourite was Nolina food.  The food was cheap and good.   Try the blue nasi lemak with sambal chicken.  Nolina Food was just 5 minutes from Copthorne Hotel at the bend towards the direction of Ipoh.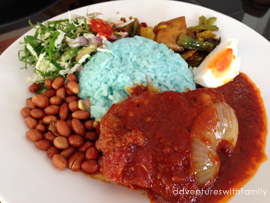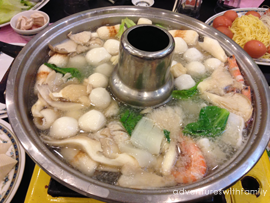 Tips on visiting Cameron Highlands
If you are thinking of visiting Cameron Highlands, here are some friendly tips.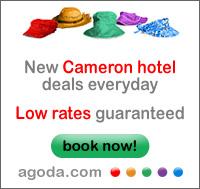 If you are coming from the North-South highway, drive up from Ipoh instead of from Tapah.  The road from Ipoh is less windy than the one from Tapah.
Don't plan on visiting the Sungai Palas Tea Plantation on Monday because they are closed.
Do consider joining local tours, especially to the Boh tea plantations and Gunung Brinchang, if you are not comfortable driving or if you don't want to risk damaging your car.  The road was too narrow for bi-directional traffic.  Other attractions were easier to drive to.  I joined the local tour CS Travel and Tours which I booked from the Hotel travel desk www.cstravel.com.my.
Don't plan on going strawberry picking in the afternoon, especially after other tour buses have come and gone.  There won't be much red and juicy strawberries to pick.  Try going for one which only opens on certain days a week (e.g. Thursday-Sunday). Go on the first day and first hour of the opening to get the best pick of strawberries.  I went to the one just outside Copthorne Hotel on Thursday morning when they just opened for the day and got the best pick of plump and juicy strawberries.
There are many accommodations that can fit a family or group of 4 or more. I would have considered apartments, but I was travelling in a bigger group, so I had to find accommodations that could fit the whole group in multiple rooms. The ones I considered were:
We also went to enjoy the hot springs at the Lost World of Tambun, Ipoh, Malaysia before going to Cameron Highlands.